Abused Driver Syndrome Causing Trucker Anxiety?
If you aren't a burnt out driver yourself, chances are that you know one that could be a victim of Abused Driver Syndrome (ADS). Both owner-operator and company drivers have always faced the difficult rigors of work and life on the road, but more than ever it seems like many drivers are becoming burnt out in higher and higher numbers.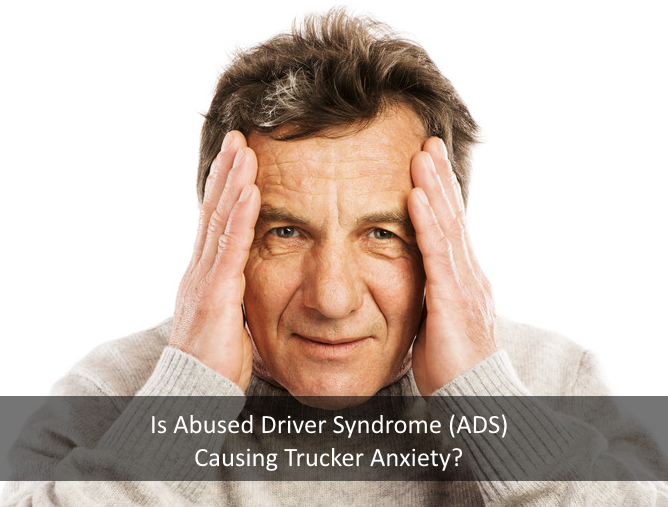 Anxiety caused by Abused Driver Syndrome
Anxiety among truckers and the ensuing turnover rates that accompany it are on the rise. More and more truckers hop between jobs in desperation, hoping to find a good fit. Their employment histories may feature a dozen or more different carriers that they have worked for in the past, trying to find one that fits.
Why the turnover?
New research and analysis points to Abused Driver Syndrome, also known as ADS. ADS occurs when truckers are repeatedly lied to, mistreated, abused, and taken advantage of by the trucking industry. Obviously, most of this abuse occurs at the hand of carriers, but some experts assign responsibility to stresses caused by shippers, consignees, dispatchers, mechanics, regulators, inspectors, and others.
Stress
Obviously, stress in any job is impossible to avoid, but ADS doesn't refer to normal day-to-day stresses of work. For instance, long hours on the road aren't a cause of ADS, but a carrier advertising that its drivers are home once a week while hiding the fact that the carrier schedules on an 11-day "workweek" would be a cause of ADS. Sadly, there are far too many ways for carriers to cheat, abuse, or manipulate their drivers. Even sadder, the practice is becoming all too common.
Increasingly, drivers are feeling "conned" by their counterparts in the trucking industry. Not only are stressed drivers a dangerous risk management and safety issue to themselves and other motorists, but also they are prone to much higher rates of job turnover. This in turn negatively affects carriers who have to deal with the expenses that job turnover causes.
Carriers are feeling the pinch of balancing financial factors, long-term company goals, and driver wellness. Unfortunately, they most often cut corners and abuse drivers. In an industry that is tens of thousands of drivers short already, however, abusing drivers is not only wrong, but also counterproductive.
Drivers and carriers alike owe it to both themselves and other motorists to look out for anxiety and the causes of ADS. Stressed drivers going through systematic abuse are an endangerment to both other motorists and the bottom lines of their carriers. Avoiding ADS and engaging in honest treatment of drivers is key to not only driver happiness, but also to safety and carrier profitability.
Categories