Fuel Card | Save At The Pump
No Set-up, monthly, or customer service fees
Huge fuel discounts of up to 60 cents per gallon
Accepted at over 14,000 locations nationwide
Reduce your expenses with a better fuel card
Fuel accounts for nearly 40% of your operating expenses. Using a 123Loadboard Fuel Card for your trucking business is a great way to reduce overall expenses by allowing you to purchase fuel at highly discounted prices below the cash price. It also provides all the detailed transaction information you will need to pay your IFTA taxes.
Apply for your free fuel card today!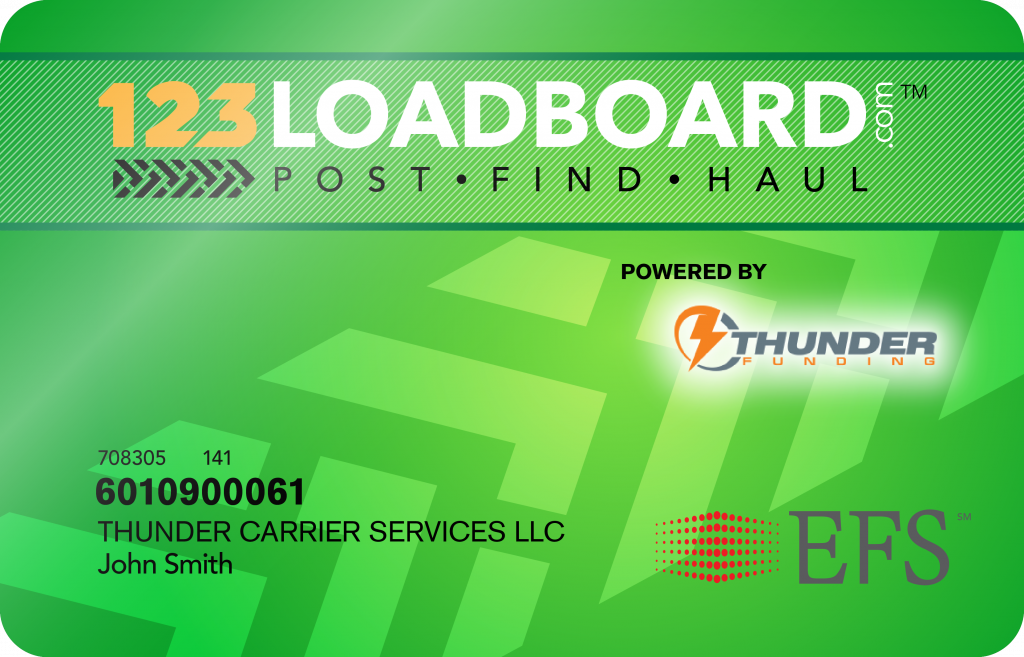 Control Your Expenses
● Free to enroll!
● No set-up fees, monthly, or service fees.
● Set purchasing controls to eliminate fraud.
● Get cash price at the pump with huge discounts
of up to 60 cents per gallon.
● Pay drivers with free transfers to multiple business accounts
Convenience
● Accepted at over 14,000 locations!
● Works like a Debit Card and at ATM's.
● Manage and track charges with eManager.
● Provides detailed fuel tax reporting for IFTA.
● Fuel Lines of Credit - up to $2500 per truck.
● Fuel advances available 7 days a week!
Application required for fuel card.

123Loadboard fuel card p
owered by Thunder Funding / EFS.