Load Alerts Direct To Your Phone
123Loadboard has a new way to help truckers find loads – without any more searching. Using Big Data and GPS based technology, 123Loadboard identifies available loads near the carrier's truck that match their equipment type and allow the driver to receive Load Alerts via a notification on their smartphone sent directly from the broker or shipper with the relevant load details.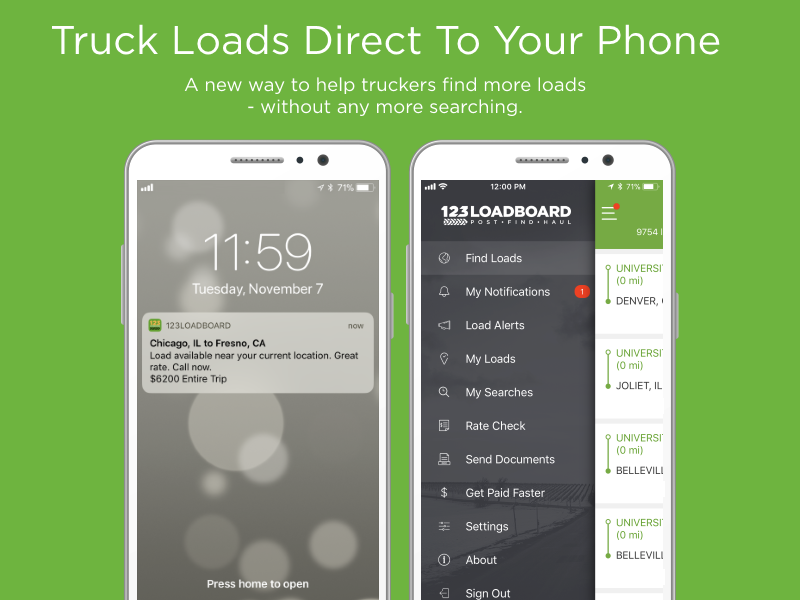 "Our focus is on our carriers and we're continuously seeking new ways to make finding loads easier. When drivers enable their location on their smartphones, they become GPS-verified trucks on 123Loadboard's Truck Locator, a search platform where brokers go to find trucks to haul their loads. The brokers can then reach out to the carriers and send a message directly to their smart phone." said Loarn Metzen, V.P., 123Loadboard.
WHEREVER TRUCKERS ARE, LOADS ARE LOCATED AROUND THEIR TRUCKS
It's like always being in the right place at the right time. On 123Loadboard, brokers who want to get their loads moved in an area will see the carrier's equipment type that matches their loads nearby. Truckers who enable their location on their smartphones will be visible to brokers because they have put themselves in position to receive Load Alerts. They can turn their location on and off as they see fit.
HOW TRUCKERS CAN ACCESS LOAD ALERTS
To view their Load Alerts from brokers, carriers simply open the 123Loadboard free load board mobile app on their smartphones and go to "Menu -> My Notifications" to see how many loads are nearby that they can haul. Notification and Load Alerts are very helpful features for carriers even if they are only looking for partial loads to help fill their trucks along their route. Load Alerts is an efficient and effective way for carriers to remain visible to brokers and show they are available to haul their loads. Load Alerts provides exposure for the carriers and the right platform for brokers to reach them.
HOW TRUCKERS CAN MAKE SURE THEY ARE RECEIVING LOAD ALERTS
Download the 123Loadboard app and turn on Load Alerts in the mobile app settings to get notified of new loads
Indicate your Trailer/equipment type so brokers can match your truck with the right load
Input your authority (MC# and/or USDOT) so brokers can easily qualify you to move their loads
Never drive empty again. Never search for loads again (unless you want to). Let loads find you instead!