123Loadboard Announces that Truck Locator version 2.0 is here!
Armed with feedback from the freight broker community, 123Loadboard has responded with an enhanced version of its GPS-Based Truck Locator. 123Loadboard has released Truck Locator version 2.0, providing more capacity details, quickly locating trucks and the ability to tag carriers. These new features were incorporated using AI innovation for maximum functionality.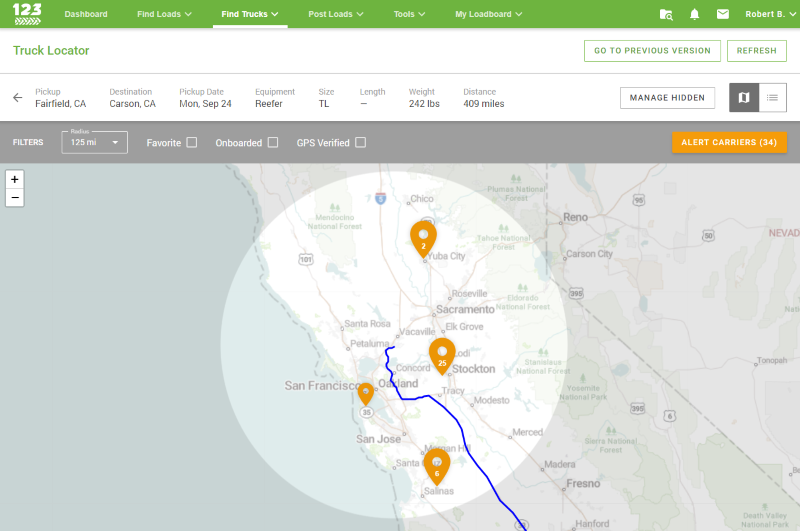 "We wanted to take Truck Locator to the next level to celebrate 15 years in the business," said V.P., Loarn Metzen.
Brokers will benefit from being able to create a database of favorite carriers, plus they can also send load alerts to selected carriers if they want to limit their load exposure. Carriers can now also be tagged as onboarded to help the broker identify quickly who is ready for hire.
"These new features will help our brokers locate and tag their favorite drivers and at the same time also find and onboard potential new carriers for whenever they have extra capacity. These improvements are easy to use and will enhance the broker's user experience," continued Loarn.
The option to hide carriers is a new feature that will help the broker avoid dealing with truckers they assess as unqualified to move their loads. The enhanced Truck Locator is modern, sleek, fast, mobile-friendly and allows the user to toggle between map view and list view.
About 123Loadboard
Founded in 2004, 123Loadboard provides a freight matching marketplace for carriers, owner-operators, brokers and shippers to engage with pertinent, easy-to-use trucking tools using the latest technologies to help professional truck drivers find loads and increase their loaded miles. Affordable web and mobile apps allow users to customize their subscription to meet their specific needs. The company is a trusted source for freight matching, credit, compliance issues, mileage and is one of the few trucking services where posting loads is still free. Visit 123Loadboard for more information.