123Loadboard introduces a fuel card program that rewards drivers with ongoing cents-per-gallon fuel savings
123Loadboard teams up with Thunder Funding to offer truck drivers a practical way to save money on fuel at over 14,000+ gas stations across the USA. The program, available through EFS and Thunder Funding, rewards carriers with 10-25 cents per gallon savings for fueling up.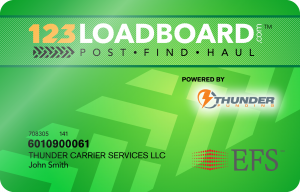 "We want to reward our customers with ongoing fuel savings and help make their membership with us a more rewarding experience and a better value," said V.P., Loarn Metzen.
The fuel card program uses pump reward technology, which allows drivers to earn and redeem cents-per-gallon rewards directly at the pump when they swipe the 123Loadboard fuel card. Carriers do not pay any upfront or monthly program fees. The Fuel card will also provide all the detailed transaction information the driver will need to for IFTA taxes.
"The initial response to the fuel cards shows that carriers are thrilled about this new 123Loadboard rewards and with the generous, ongoing cents-per-gallon savings, we're confident that truck drivers will find the program equally valuable to their businesses. The 123Loadboard fuel card reward program is one that professional truck drivers will want participate in. By joining the program, drivers will reduce overall expenses because they can purchase fuel at highly discounted prices. The program is a win-win for everyone," continued Loarn.
In addition to the fuel card program, 123Loadboard has also launched a Fuel Advance program to help fund the truck driver before delivering the load. This feature is available on every load through 123Loadboard's Android and iOS mobile apps.
About 123Loadboard
Founded in 2004, 123Loadboard provides a freight matching marketplace for carriers, owner-operators, brokers and shippers to engage with pertinent, easy-to-use trucking tools using the latest technologies to help professional truck drivers find loads and increase their loaded miles. Affordable web and mobile apps allow users to customize their subscription to meet their specific needs. The company is a trusted source for freight matching, credit, compliance issues, mileage and is one of the few trucking services where posting loads is still free. Visit 123Loadboard for more information.
About Thunder Funding
Thunder Funding is North America's premier carrier services and freight factoring company. Ranked as a Top Freight Factoring Company by Truckers Report, Thunder Funding boasts more than 50 years of service to the transportation and logistics industry with factoring, fuel advances, fuel cards, insurance, compliance, and more. Visit Thunder Funding to learn more.