123Loadboard Redesigns Their Load Posting Interface to Improve the Quality of Posted Loads
123Loadboard has redesigned the web posting interface to improve the quality of posted loads and provide quicker access to available truck capacity. Owner-operators and carriers will benefit from this update in that they will get more calls regarding their truck posts and loads will now have more information posted.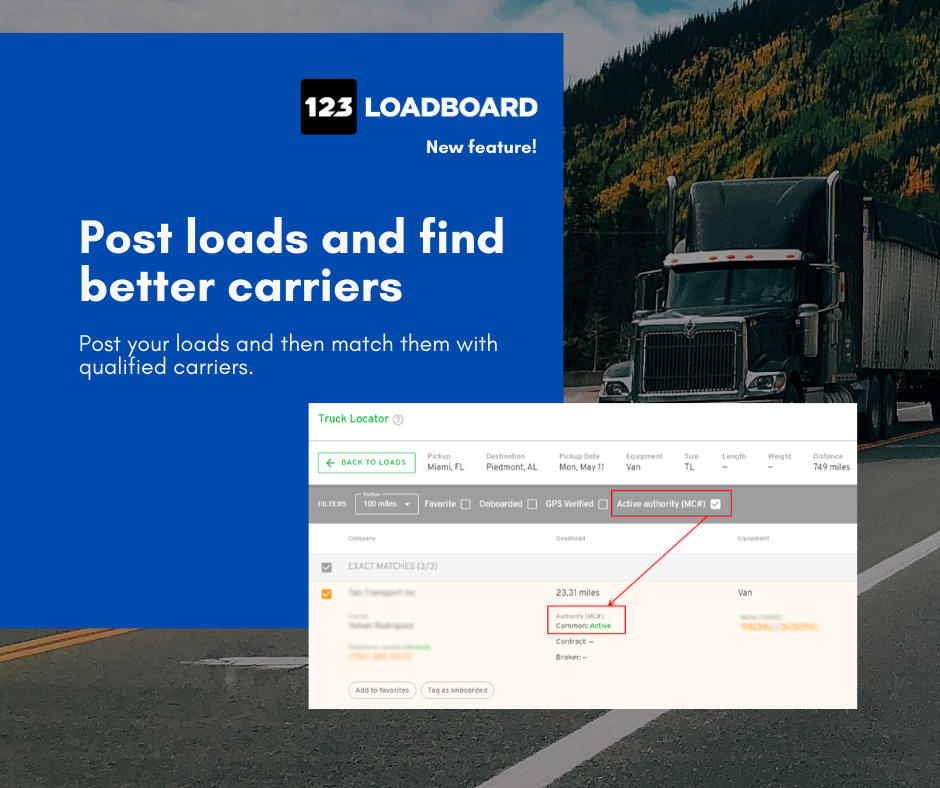 The fresh new load posting and management interface will help freight brokers and shippers move more freight. This latest update adds to the newly redesigned load board that focuses on ease of use, security, and reliability.
"123Loadboard is here to make a difference. Over the last 6 weeks, we've launched numerous tools to help the trucking industry – without increasing our rates. We are here for the long haul and are doing everything we can to help during these times," said 123Loadboard V.P., Loarn Metzen.
Find qualified carriers faster by weeding through trucks that don't have active authority. Use the available authority filter to display carriers with active MC authority. Click here to see it in action.
Our new and improved load posting tool has been given a shiny new look and is more intuitive, giving you smart prompt selections that allow you to post more complete load details to generate more qualified calls. Click here to see it in action.
Advantages of the new load posting interface:

Mobile device friendly
Pickup and drop-off auto-suggestion
Mileage automatically calculated using PC*Miler
Ability to post unlimited equipment types
Ability to quickly clone loads
Ability to filter through load posts quickly
Ability to post pick up time, drop off date, and drop-off time
Integrated Rate Check to help brokers/shippers price their loads
Post strength: Adding more details to a load will generate more calls
Ability to "preview" how their load will look to carriers viewing the load
New load post interface (screenshots):
Easily post single or multiple loads.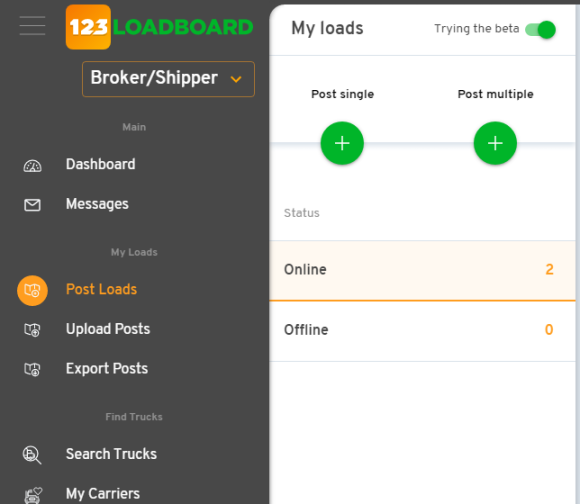 Quickly see the amount of online and offline loads.
Available actions help you quickly edit, refresh, or delete loads.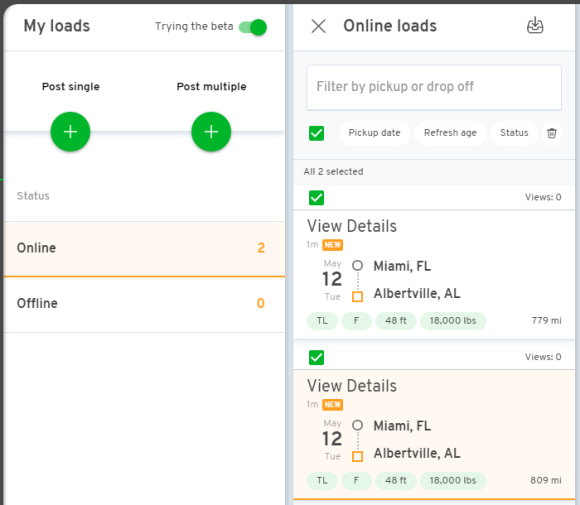 Load posting details similar to how a carrier would see them.
To find out more about 123Loadboard's latest feature launches or to schedule a demo, visit www.123loadboard.com or call (877) 875-5301.