CSA Score and How It Affects Your Job Options
The CSA Score from the Compliance, Safety, Accountability (CSA) program affects any interstate carrier that has a USDOT number. There is no specification to the size or type of carrier. Waivers from participating in the CSA program are not available. The CSA enforcement program tracks drivers' personal accident history. The number of accidents truckers have, whether documented as their fault or not, will determine what type of action the CSA may take against them, if an employer will hire them, and if a shipper will employ the trucking company.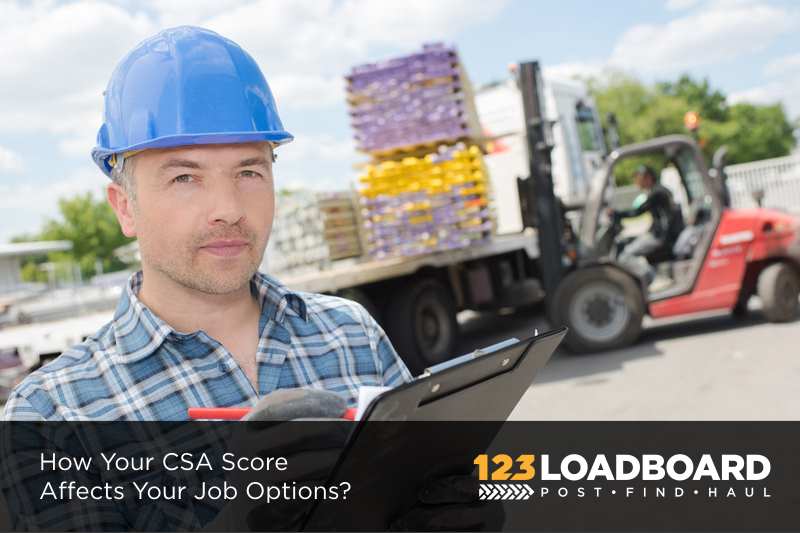 Driver Violations and your CSA Score
The CSA scoring system takes into consideration all DOT-recorded crashes. Incidents are scored on a numeric basis, where, according to DriverTraction.com, there are 12 red-flag violations that are the most severe. For example, a trucker operating a CMV without a CDL will get penalized with eight points. A driver using or in possession of drugs gets hit with a 10-point violation. There are 670 possible violations within six categories.
CSA violation categories include:
Unsafe Driving – speeding, reckless driving, improper lane change, etc.
Fatigued Driving – driving while not in compliance with hours-of-service requirements (driving while sick or tired)
Driver Fitness – not being fit to drive because of improper certification or being medically incapable
Controlled Substance – being in possession of or driving under the influence of alcohol or illegal drugs, or prescription or over-the-counter medication misuse
Vehicle Maintenance – failing to maintain mechanical issues like lights, brakes, or a shifting load
Cargo-Related – violating hazardous material regulations, not having proper paperwork
Crash Indicator – repeatedly involved in crashes (state-reported)
Keep A Low CSA Score
The goal is to keep the CSA score low. A major factor in keeping a satisfactory score is getting clean roadside inspections. Federal regulations mandate that inspection details be transferred from states to the FMCSA within three weeks. There are five levels of inspections:
Level I and Level II – most detailed inspections, covering all driver and vehicle safety issues
Level III – inspection of driver and hazardous materials issues only
Level IV – examination of special items, like cargo tanks
Level V – inspection of vehicle only
If drivers feel they have been denied a job based on an inaccurate PSP record, they can appeal the information through FMCSA's DataQs online system. Drivers can also obtain a complimentary copy of their PSP report from the carrier choosing to hire them through the Fair Credit Reporting Act. Sole-proprietor drivers can get a copy of the PSP report by paying a fee.