Need to Find Loads? 7 Tips for Choosing the best Load Board
As an owner-operator, you know you need to find loads to haul. Your business is based on running as many loaded miles as you can in order to maximize your profits and mileage. One great way to find loads is through online freight matching services, also known as load boards. These websites can save you a lot of time hunting down work, so you can spend your time earning money.
There are scores of load boards to choose from, so the trick is to find one that matches your needs so you aren't wasting time and money.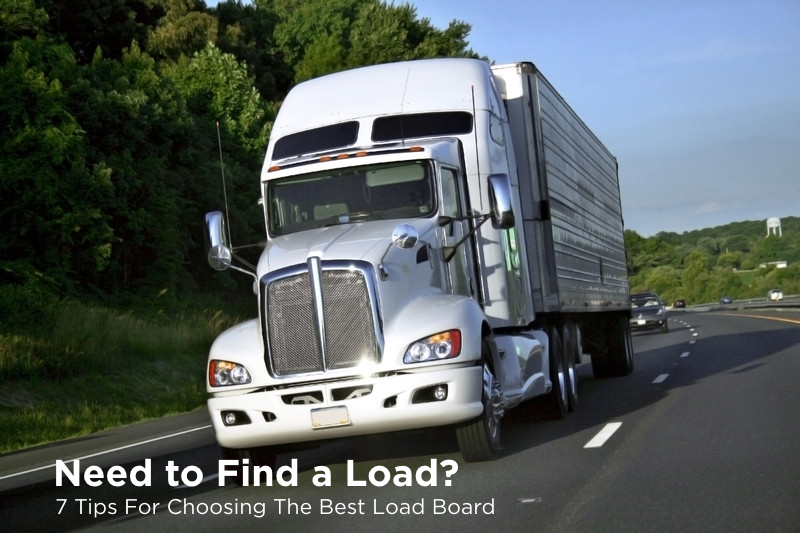 What to Look for in an Online Load-Matching Service
1. Low cost
Make sure you find a freight matching service that fits within your budget. A good load board will pay for itself after a few loads.
2. User-friendly interface
Is the load board user-friendly? Look for an intuitive interface, so you don't waste time searching for loads, posting your truck or using other value-added features.
3. Free trial
Look for a load board that offers a free trial, so you can test it to see if it suits your needs. Be weary of a load board that does not offer a free trial.
4. Mobile apps
When you're on the go, you need a freight match service that offers the same access on your phone or tablet as what you can see on your computer.
The most popular load boards offer mobile apps that can be used while you're on the road and away from your laptop. One of the most popular mobile load board apps is available for free download at:
5. Find Loads with Load Board Notifications
You'll want to use a board that sends load alerts 24/7 to your phone or email address, so you never miss an opportunity.
6. Free load posting for brokers
When it's easier for brokers to post loads, more truckloads will be listed, offering you greater opportunities.
7. Value-added features including Quick Pay
Some load boards provide load planners, credit ratings/scores, mileage/routing and free corporate websites at no additional cost.
Lastly, look for a load board that has partnered exclusively with a factoring company. This way you are ensured of the best quick pay options available. A very popular factoring company is Thunder Funding. With Thunder Funding, you'll automatically receive a number of other value-added specialty services at no extra charge! Learn more about quick pay and factoring.
Categories